FabShop Member
Advertisement
---
Online FabShop Hops
The Fabric Shop Network is proud to bring you FABSHOP HOP™ ...an Internet fabric shopping adventure in January, March, April, June, July, September, October, and the Holiday Hop in November/December.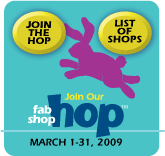 Click here for FabShop Hop information
By visiting the sites on the Hop between March 1-31, 2009, you'll have an opportunity to explore your "soon to be favorite" fabric/quilt shops and design studios as you qualify for random prize drawings, including Grand Prizes. Let's go hoppin and shoppin! (No purchase necessary to win.)
VOTE NOW
for your favorite display.

Watch the slideshow and decide on your favorite display. Then
click here to vote!