FabShop Member
Advertisement
---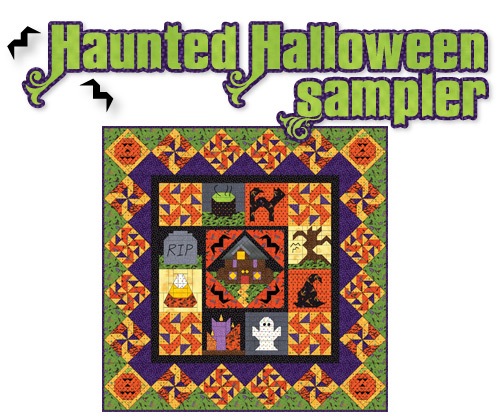 Moda Fabric Collections: Trick or Treat, Marble Dot, Puzzle Pieces,
Meadow Friends, American Jane Pindot, Marble Swirls.
FabShop's Haunted Halloween Sampler; a Spooktacular Quilt!
This hair-raising sampler features a 14" on point haunted house center surrounded by 12 spooky 11" Halloween themed blocks. A bat, black cat, and witch's hat to name a few…ekkkkk! Create this uncanny quilt using piecing and appliqué techniques and an on point border; the results are frightening! The Haunted Halloween Sampler finishes 72"x72" square.
Make one today! It is sure to be a nail-biting, spine-chilling adventure!
To find a participating shop, use the form below.
Find A Participating Shop