Grand Prize Sponsor
Studioe Fabrics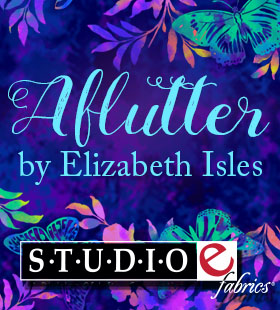 Win Great Prizes! All it takes to be in the running for these fantastic prizes are nimble fingers and a little time at your computer to visit and register at participating websites to qualify for the Grand Prize Drawing.
Don't miss out on the fun and the opportunity to be the grand-prize winner. Just a little persistence could yield a big payoff from these fine companies! Check out the Grand Prizes to see what you could end up with on your doorstep and in your sewing room if you're a lucky winner like Michele Van Epps was.
"I am still in shock over learning that I was a grand prize winner!! I have told all my sewing friends and encouraged them to participate in the FabShop Hop. I enjoy visiting all the different sites, seeing the variety of website styles, looking at all the fabric, and shopping from my family room!"
February 2018 FabShop Hop Grand Prize Sponsor
50 Yards of Fabric from Studioe Fabrics!
Studioe Fabrics is excited to be a FabShop Hop Grand Prize Sponsor!

One lucky winner will win a minimum of 50 yards of fabric from the Aflutter collection by Elizabeth Isles for Studioe Fabrics. The winner will be able to work with the President of the company to select which designs he/she wants from the group.

Aflutter by Elizabeth Isles:
We can all recall a moment when we were just in awe of nature's grand vistas and the magnitude of its beauty. It was a love of nature and grand vistas that inspired the Aflutter collection by Elizabeth Isles. Take a moment to focus in on all the beauty that this collection captures. There are 19 SKUs in the group in rich and vibrant purple, aqua, yellow and red. The textures, leaves, butterflies and dragonflies are all illustrated in a brilliant watercolor palette which attempts to capture some of that exceptional beauty. This collection also offers some lovely textures. The watercolor technique and style works seamlessly with batik fabrics. This collection does in fact resemble a batik, but don't be fooled as it is a traditionally printed group.

About Elizabeth Isles:
Elizabeth Isles is an avid abstract watercolor painter. She grew up on the coast of Nova Scotia. She typically paints her subjects with a nod to realism, but infuses them with abstract elements. This is Elizabeth's most recent collection in her series of batiky looking quilt groups. The first collection was Natural Wonders which was followed by the By The Sea line and then Mariposa Meadow. Stay tuned for the newest collection by Elizabeth called Woodland Wonders which will go on sale to quilt shops in April and ship to quilt shops later in the year.

FabShop Hop Sponsorship Opportunities
We hope other companies will become sponsors and offer their products for grand prizes in future hops. If you are interested in being a grand-prize sponsor call Laurie Harsh at 360.666.2392 to discuss the details or send her an e-mail at info@fabshopnet.com
And to our sponsors: Thanks for helping make FabShop Hop the place to go for quilting and sewing shopping on the web. Your support is appreciated by the thousands and thousands of shoppers who visit participating websites during the month of each hop!