Grand Prize Sponsor
Michael Miller Fabrics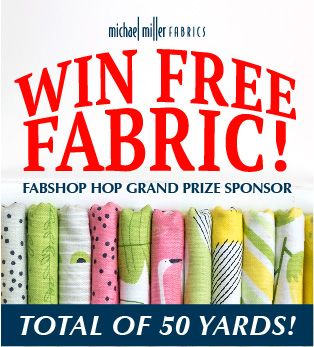 Win Great Prizes! All it takes to be in the running for these fantastic prizes are nimble fingers and a little time at your computer to visit and register at participating websites to qualify for the Grand Prize Drawing.
Don't miss out on the fun and the opportunity to be the grand-prize winner. Just a little persistence could yield a big payoff from these fine companies! Check out the Grand Prizes to see what you could end up with on your doorstep and in your sewing room if you're a lucky winner like Michele Van Epps was.
"I am still in shock over learning that I was a grand prize winner!! I have told all my sewing friends and encouraged them to participate in the FabShop Hop. I enjoy visiting all the different sites, seeing the variety of website styles, looking at all the fabric, and shopping from my family room!"
January 2018 FabShop Hop Grand Prize Sponsor
50 Yards of Fabric from Michael Miller Fabrics!
Win 1 yard of each sku in the Carnival Fun Collection, including Minky! Plus, 1 yard of each sku in the Everglades by Betsy Siber! Total of 50 yards of fabric!

Carnival Fun-
Come one, come all to the greatest show on earth- Carnival Fun! Take a ride on the Ferris Wheel, line up for games and amusement and see the magnificent lion. Our popular Play Stripe and Dabble Dot have been recolored in lively, primary colors which will add a sense of wonder to any quilt. This charming collection makes us all nostalgic for childhood trips to the carnival. Available in cotton and super soft and cuddly, Minky!

Everglades-
Everglades is Betsy's debut collection for Michael Miller Fabrics!
Inspired by Everglades National Park, the Everglades collection is a playful take on the vivid and varied flora and fauna of the park. Mischievous crocodiles splash, elegant snowy egrets wade, and a hazy moon rises over the wetlands at dusk. Everglades features prints for children and vivacious adults alike.

More about Betsy:
After earning a degree in photography, a series of creative gigs (mask-making, typesetting, book binding) and running her own jewelry company for eight years, Betsy found her true creative calling as an illustrator. Her designs appeal to both children and color-loving adults alike with their quirky characters, bold midcentury-inspired shapes and hand-drawn lines.

She grew up in Indiana but now calls the beautiful Chicago, Illinois home. She lives in the Wicker Park neighborhood in a 120-year-old coachhouse with her artist husband Matt, two inquisitive and energetic daughters, ages 6 and 3, and a sweet grey tabby cat named Loki. She finds inspiration in vintage cook books and travel posters, her daughter's finger paintings, and neighborhood wall murals.


FabShop Hop Sponsorship Opportunities
We hope other companies will become sponsors and offer their products for grand prizes in future hops. If you are interested in being a grand-prize sponsor call Laurie Harsh at 360.666.2392 to discuss the details or send her an e-mail at info@fabshopnet.com
And to our sponsors: Thanks for helping make FabShop Hop the place to go for quilting and sewing shopping on the web. Your support is appreciated by the thousands and thousands of shoppers who visit participating websites during the month of each hop!