FabShop Hop Grand Prize
Win Great Prizes! All it takes to be in the running for the fantastic prize is nimble fingers and a little time at your computer to visit and register at all of the participating websites to qualify for the Grand Prize Drawing.
Don't miss out on the fun and the opportunity to be the grand-prize winner. Just a little persistence could yield a big payoff! Check out the Grand Prize below to see what you could end up with on your doorstep and in your sewing room if you're a lucky winner like Michele Van Epps was.
"I am still in shock over learning that I was a grand prize winner!! I have told all my sewing friends and encouraged them to participate in the FabShop Hop. I enjoy visiting all the different sites, seeing the variety of website styles, looking at all the fabric, and shopping from my family room!"
August 2018 FabShop Hop Grand Prize Sponsor: QT Fabrics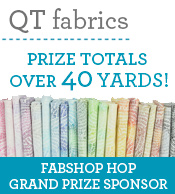 Win over 40 Yards of Fabric and Precuts from QT Fabrics !
Ombre Stitches is a design combining the textural effect of stitches printed in meandering colors for a fabric with lots of movement! This collection works well as a stand-alone print or plays well with coordinating colors and prints for even more impact! Twenty color stories make it easy to find a great companion for your next project! Friends of QT's dynamic quilt projects are included to showcase how they were inspired by these fun fabrics! Make a colorful statement with Ombre Stitches by QT Fabrics!

FabShop Hop Sponsorship Opportunities
We hope other companies will become sponsors and offer their products for grand prizes in future hops. If you are interested in being a grand-prize sponsor call Laurie Harsh at 360.666.2392 to discuss the details or send her an e-mail at info@fabshopnet.com
And to our sponsors: Thanks for helping make FabShop Hop the place to go for quilting and sewing shopping on the web. Your support is appreciated by the thousands and thousands of shoppers who visit participating websites during the month of each hop!