VIEW IN BROWSER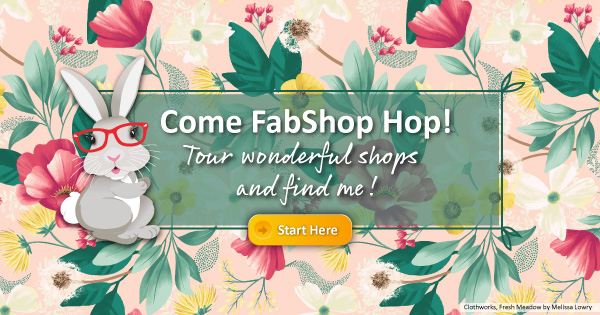 FEBRUARY FABSHOP HOP

Ready for some SUNSHINE?

So am I! Speaking of sunshine...I am so in love with the Fresh Meadow Collection by Melissa Lowry for Clothworks! It reminds me of a beautiful sunny day! It is the fabric featured in the tour wonderful shops image above. Scroll down to see the fabric collection and be sure to watch for the fabric as you shop and hop!

~Bunny
Tour all the shops participating in the February FabShop Hop! At each site, search for the white bunny with the pink ombre and red background that says 'YouFoundIt!' February 1-29, 2020. When you find it; click on the image and complete the prize registration page - enter your email address and click the "register for prizes" button. Once you have done that you will receive an email confirmation that you successfully registered at that site. Then continue shopping on that site or hop to the next one on the List of Shops.

You can also view the shops you have visited and the ones you need to visit in your Member Area.
FEBRUARY FABSHOP HOP PRIZES



Come FabShop Hop with us for a chance to win amazing prizes! We love our sponsors! Check out this month's Grand Prize! It has a retail value of over $500!


COLLECT 12 BONUS BLOCKS



Now thru February 29th ~ Collect 12 Puddle Hoppin Bonus Blocks!

The bonus blocks are continually moving around to different shops and circulate randomly through the "Prize Verification Confirmation Page." This page appears after you have successfully clicked on a youfoundit bunny and registered for prizes on the "Prize Verification Page."

You may need to "re-hop" to find all 12 bonus blocks. You can keep searching for blocks even if you have already found all the youfoundit bunnies for the February FabShop Hop. Just visit the shops again. When you find a block, click on the block to download a PDF of a block and assembly instructions.
UPCOMING EVENTS

There are many exciting events to get your creative juices flowing. Mark your calendar for these upcoming online and in-person opportunities. You won't want to miss them!




BlowOut Sale


February 17-21-2020

If you are looking for SUPER SAVINGS on fabrics, books, and patterns from your favorite online quilting and sewing related retailers, this is the place!


Worldwide Quilting Day


Saturday, March 21, 2020

Your local quilt shop may be planning to celebrate this day with special events. Contact them to find out more about their plans and ask them to join the fun!
FREE PATTERN DOWNLOAD


Berry Nice Baskets
by: P&B Textiles


Featured Fabric Collection