VIEW IN BROWSER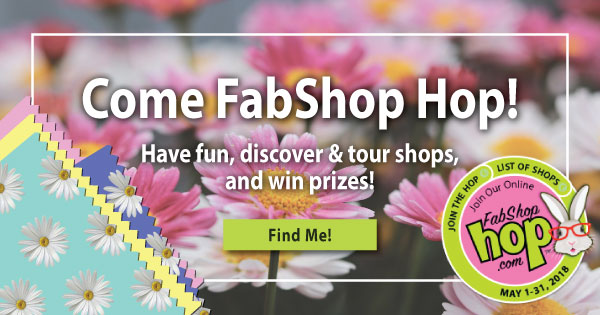 May FABSHOP HOP



April Showers bring May Flowers... Shop for floral prints while spring blossoms around us! Happy Spring Hopping! Don't forget to buy your sewing and quilting supplies at your local quilt shop.


Tour all the shops participating in the May FabShop Hop! At each site, search for the white bunny with the pink and green background that says 'You Found It!' May 1-31, 2018. When you find it; click on the image and complete the prize registration page - enter your email address and click the "register for prizes" button. Once you have done that you will receive an email confirmation that you successfully registered at that site. Then continue shopping on that site or hop to the next one on the List of Shops.

You can also view the shops you have visited and the ones you need to visit in your Member Area.
UPCOMING EVENTS

There are many exciting events to get your creative juices flowing. Mark your calendar for these upcoming online and in-person opportunities. You won't want to miss them!




BlowOut Sale


May 14-18, 2018

If you are looking for SUPER SAVINGS on fabrics, books, and patterns from your favorite online quilting and sewing related retailers, this is the place!


Sew Days


June 11-July 28, 2018

Join the FUN this summer and be part of the worldwide sewing program! Click Here to find a participating shop near you!
May FABSHOP HOP PRIZES



Come FabShop Hop with us for a chance to win amazing prizes! We love our sponsors for making it all possible! Click on an image below to get hopping!






FREE PATTERN DOWNLOAD


Roses on the Vine
by: Maywood Studio