VIEW IN BROWSER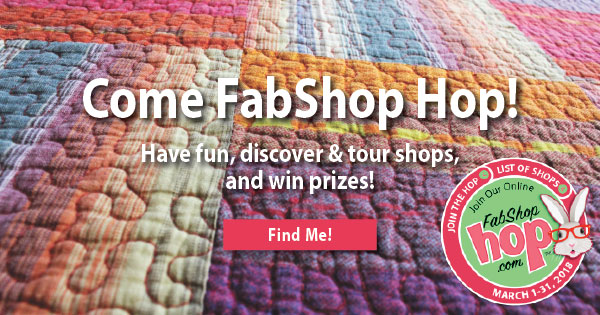 MARCH 1, 2018

March is National Quilting Month! Make some time to quilt something spectacular to celebrate! We love to see what you are quilting! Share your projects with us on the FabShop Hop Facebook Page! Also, be sure to Hop into your local quilt shop on Saturday, March 17th to celebrate Worldwide Quilting Day with them!
Tour all the shops participating in the March FabShop Hop! At each site, search for the white bunny with green and red that says 'You Found It!' March 1-31, 2018. When you find it; click on the image and complete the prize registration page - enter your email address and click the "register for prizes" button. Once you have done that you will receive an email confirmation that you successfully registered at that site. Then continue shopping on that site or hop to the next one on the List of Shops.

You can also view the shops you have visited and the ones you need to visit in your Member Area.
MARCH FABSHOP HOP PRIZES

Come FabShop Hop with us for a chance to win amazing prizes! We love our sponsors for making it all possible! Click on an image below to get hopping!






FREE PATTERN DOWNLOAD


Day Break
by: Hoffman Fabrics